All Resources
Faster…grab iSkySoft Data Recovery for Mac totally FREE from now until May 15, 2013! This is a special Mother's Day Giveaway.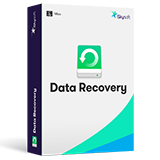 iSkySoft Data Recovery for Mac is a safe, affordable & Do-It-Yourself data recovery software for mac.
Key features of iSkySoft Data Recovery for Mac.
DIY Data Recovery Made Easy.
Mac Users in distress, never fear, iSkysoft Data Recovery for Mac is here. It's the easiest, fastest and safest solution to recover data lost by accidental deletion, formatting, improper operation, and most other reasons you can think of. Using the latest powerful scanning algorithms, it can scan any Mac-based hard drive or external hard drive without destroying any data, and lets you recover photos, video, documents, music, archive files, and email messages in no time at all.
Data Recovery on Mac Anyone Can Use
Lost Data Recovery – Retrieve lost data emptied from your Trash bin or deleted by Command + Delete, complete with original file names and folders.
Raw Data Recovery – Completely scan your drive and recover files by "file signature".
Partition Recovery – Recover data from lost, deleted, resized and corrupted partitions.
Resume Recovery – Save your scan results to perform data recovery later.
Recover Everything You Need
Recover almost any file, including but not limited to documents, photos, video, music, email, and archive files.
Recover from any internal and external hard drive, USB flash drive, digital camera, memory cards, iPod, media player and other portable devices.
Restore data lost due to deletion, formatting, virus infection, improper operation, unexpected power failure, software crash and other unknown reasons.
Fully compatible with 10.8 (Mountain Lion), 10.7, 10.6 and 10.5.
Recover data from HFS+, HFSX, FAT16, FAT32, exFAT, and NTFS files systems.
Preview Recoverable Files
View photos in thumbnail or cover flow view and easily check image quality before recovery.
Preview video and audio files to check whether or not they're what you are searching for.
Open documents, email and archive files to see they're intact and the ones you need.
This data recovery application only scans existing data on your drive. It's a read-only process, so nothing will be changed except for your data will be back!
By the way, Wondershare is the former name of iSkySoft.
More Bigger Discounts for Mother's Day Below! Read more…
A good friend of mine – the Managing Director of HousingInteractive Philippines is looking for qualified individuals to augment the expansion on their IT department. Currently they have offices in Makati City, Metro Manila, Philippines and Ho Chi Minh City, Vietnam. They need the following IT developers on their Makati office.
Senior Software Developer (back end) – Min 3 years experience
Experienced in web development and system integration

Experienced in database oriented application development. Skillset such as MySQL or other common relational database. Bonus if done any NoSQL database development before.

Programming language: Java (J2SE, J2EE), XML, JSON, CSS, Hibernate and Javascript. Willing to learn new language is a must.

Platform: Any major java application server (JBOSS, Apache Tomcat, JRocket etc…), Able to work using open source platform such as Linux.

Documentation skill (technical specification, technical diagram, user guide, operation guide) is required. Read more…
This is actually a belated happy birthday greetings to WWW already. WWW was born on April 30, 1993 at CERN laboratory.
I became aware of WWW 3 years after it was born. I was in the University at that time taking a Computer Science course. I remember my classmates and I were only using BBS to exchange ideas and files over the wire (wifi is unheard of).
First Webhost
WWW was born at CERN led by Tim Berners-Lee. The first website in the world was hosted on Berners-Lee's NeXT computer.
First Website Content
So what's the content of this first website? Well, not so much actually. It only described the basic features of the web; how to access other people's documents and how to set up your own server.
First IP of info.cern.ch
128.141.201.74
First URL
The first URL was:  Read more…
The Samsung Galaxy SIV will be launched next week, March 14, at Radio City Music Hall in New York. As of this writing, the Samsung S IV's features hasn't been revealed to anybody. A blog in New York Times, reveals the special event next week in New York will be mostly on software, not hardware.
An exclusive leaked images or screenshots of the new Samsung Galaxy S IV is posted in an Israeli website. Here are some of them:
Yes, the title is right! Get your FREE MacX DVD Ripper PRO for FREE!
MacX DVD Ripper Pro can easily backup your DVDs by converting the movies to digital files that are compatible with a almost any platforms. It means it rips all DVD's without the need to mess with codecs.
Special Features of MacX DVD Ripper Pro:
Fastest DVD ripper on the market. Supports multithreading and multi-core processing.

Rip your movies to digital files on your Mac

Convert DVD-bound movies to files that can be played on any device

Transform your collection of DVDs into a mobile entertainment database

Convert DVDs with no loss of quality and full surround sound

Make backup copies of commercial DVDs

Rip DVD to MP4, QT(QuickTime), FLV, H.264, MOV, AVI, MP3, MPEG, M4V, to name a just a few with high quality video/audio. Read more…
I'm a fan of Cobian Backup, the best FREE backup software that I've tried. In fact, I've been using Cobian Backup for the past 7 years already!
However, when I upgraded the software this morning, I encountered a problem wherein the program can't create the destination directory. The destination directory is located on another PC but connected on the same network. When I tried to write a file using Windows Explore onto the directory, it was successful!
What could be the problem? How can I write using Windows Explorer while Cobian Backup 10 can't? It's actually on Windows permission rights. The Cobian Backup I installed is setup to run as a Windows service. Almost all Windows services are using the "Local System" account. However, the other PC won't let the "Local System" account to access the directory.
What are the possible solutions? 
First make sure you (or the Windows user) have the required access rights. You can easily test this by going to the destination directory and copy a file there.
Second, change the installation mode of Read more…
Is there a way to check if the USB drive or Flash memory card (SD card, miniSD, microSD, Memory Stick, etc.) you bought is fake? Can you tell the difference between a genuine device from a counterfeit?
Prices of memory and USB drives are insanely low specially on online stores. Just browse on eBay and you will see a lot of these devices, mostly from China. I'm not saying that all products from China are fake or fraud, but a number in devices in low price range are too good to be true.
Note, that 90% of my y gadgets here on top of my table right were all made from China and I diligently test them if the description posted on the seller's website is exactly what the product is capable of. Sometimes, the description doesn't match what is being advertised so I just have to balance my choices. Will I keep the product or should I send it back to the seller? What I usually do is just to keep the product and give a negative feedback on the seller, if they don't want to keep their replacement warranty.
So what will you do if you are having doubts on the USB or Flash memory card you bought? Here's what you can do:
1. The easiest way is to check the product against what is shown on the product list of the original manufacturer. If there's no existing product from the site of the original manufacturer, it obviously fake. In fact, you need to do this step even before placing your order.
2. Internally, you can't tell the difference between a counterfeit and a genuine USB or memory cards. However, there's already a tool you can use. Download H2testw from this site: Read more…
Get your smartphone ready for we are going to give you the Top 10 Best Android Camera Apps. At long last, you can spice up your dull-looking photos without purely relying on Photoshop. You can apply a variety of effects as you get to share your favorite moments to your friends on Facebook, Twitter and Pinterest!
Of course, we want what's best for you. That is why we did some extra digging just to make sure that you will be able to make the most out of your phone's snapper. All that you need to do is to read our list and choose the app that you think would be the best match for your smartphone. No worries. All of these apps can be downloaded at the Google Play Store.
1 – Streamzoo
By Phonezoo Communications, Inc
Price: Free
If there is an app that is worth to be compared to Instagram, it's none other than Streamzoo. And just like Instagram, this app features its own community of photo lovers. You will also be able to create your own user profile, earn some badges as you get to showcase your spectacular photos to your friends and followers. Truly, this app can be considered as one of the most brilliant camera apps that you can get from the Google Play Store.
2 – Instagram
By Instagram, Inc
Price: Free
Almost everyone knows about Instagram. Well, who doesn't when it's one of the best camera apps that you can download for free. Plus, this app is packed with a whole bunch of photo effects such as frames, borders and filters. You can easily edit your images in a matter of few taps. No need to transfer and edit your images on Photoshop. And if ever you feel like bragging your HDR quality images to your friends, you can freely do so. Just share your photo to the Instagram community and presto! You can have your own photo gallery.
3 – Pudding Camera
By KTH
Price: Free
The Pudding Camera is more like an app that you can use to replace your phone's default camera. It has its own camera settings and it also flaunts it very impressive interface. You can preview your photo in full screen and you can easily activate the flash in a single tap. And if ever you want to enhance the quality of your image, all that you need to do is to select a camera filter. You can set your photos to Basic, Snap, Panorama, Fantasy, Triplex and a whole lot more.
4 – Paper Camera
By JFDP Labs
Price: $1.99
This app is apparently the only app in this list that cannot be downloaded for free. Even so, there's no reason for you to step back. Paper Camera is a very impressive camera application and it can instantly transform your photos to cartoon-like creations. The outcome of the image will definitely impress you. It's like you have paid a human artist to sketch your images. And if you don't have any talent in drawing, this app will give you the opportunity to draw without using any ink.
5 – Labelbox
By Stepcase
Price: Free
Out of all the camera apps in this list, the Labelbox app is probably the most unique. That's because the developers behind this app managed to innovate the concept of photo tagging. With this app, you can attach a variety of beautiful tapes to your still shots. To do so, you just need to swipe your finger to the place where you want the fancy tape to be placed. After which, input some fancy texts or shake your phone to correct any typing mistakes. You can also share your images to Steply, Tumblr, Facebook or Twitter. Read more…
As of this writing, Apple is just about to launch iPhone 5. Searching the words "iPhone 5″ on Apple's official website, it shows and confirms the new product is already on it's way. The results page shows this:
Although the links are still broken and can't be found yet. These links will be visible to the public soon since the launching will start anytime now. The launch will start start at 10 a.m. PT.
Research analyst Brian White of of Topeka Capital, believes that 1.3–1.5 million for the iPhone 5 will be pre-order and Apple will make a killing of 10-12 million units to be sold for September quarter alone. White said "Apple launch of iPhone 5 is going to be the "biggest upgrade in consumer electronics history"". That history is set to be unfold in less than an hour as of this writing.
Coupon Code Link: Save 25% OFF Kaspersky Internet Security 2012! Protect 3 PCs for the price of 1 (auto-renewal), plus free uppgrade to version 2013, coming soon!
Kaspersky Internet Security is for the type of user who likes to shop, social network and bank online, whilst also keeping children safe by restricting their internet access. Customers who purchase Kaspersky Internet Security protection will also benefit from a free upgrade to the brand new 2013 software at the end of this month which is a brilliant reason for you to purchase now!!
Purchase the 3PC 1Year AR product for the same price as the 1PC 1Year AR product which is only £39.99.
The discount is only valid for the 3 PC version 1 Year AR. The promotion is now live and runs until the 27th August 2012.